PubGuru is a cutting edge Header Bidding SAAS platform by MonetizeMore for online Publishers, who aim to maximize their digital ad revenues on their websites. The landscape of digital advertising is dynamically changing day by day with the help of innovative technology. In an industry so fast-paced, it's essential for users to access tools, that can make their work easier.
An easy-to-use web application with lots of eye-catching and quickly accessible insights as well as useful features. As part of a Publisher's digital toolkit, it promises to be a game-changer, delivering innovative features and streamlined user experience.
The platform allows you to get your ad revenue sources together with an intuitive reporting dashboard that helps you monitor and diagnose ad revenue issues from your many different demand sources.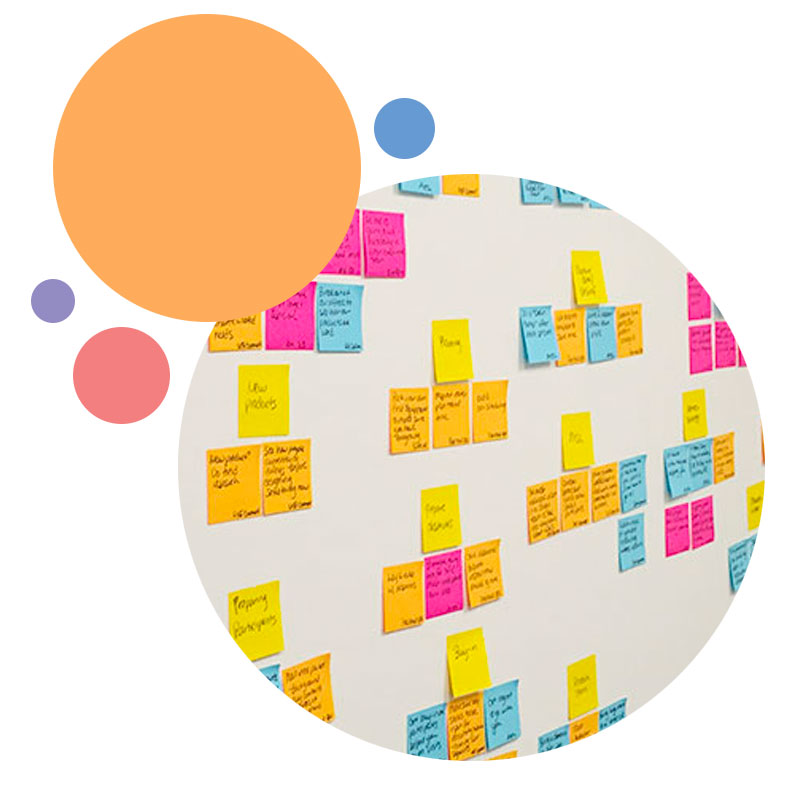 The company had been in the business of Ad operations for over 10 years. Over the years, the product team build SOPs that were followed by Ad executives that involved manually collecting data for multiple sources and creating reports for their clients. As the company scaled, the overhead of manual process increased, and the company made a decision to automate reporting and created a self-serve platform so that the Ad executive could focus on lucrative tasks.
The Company also wanted to automate other tasks in their operations, to give their clients a cutting edge experience enabling them to take their revenue to the next level.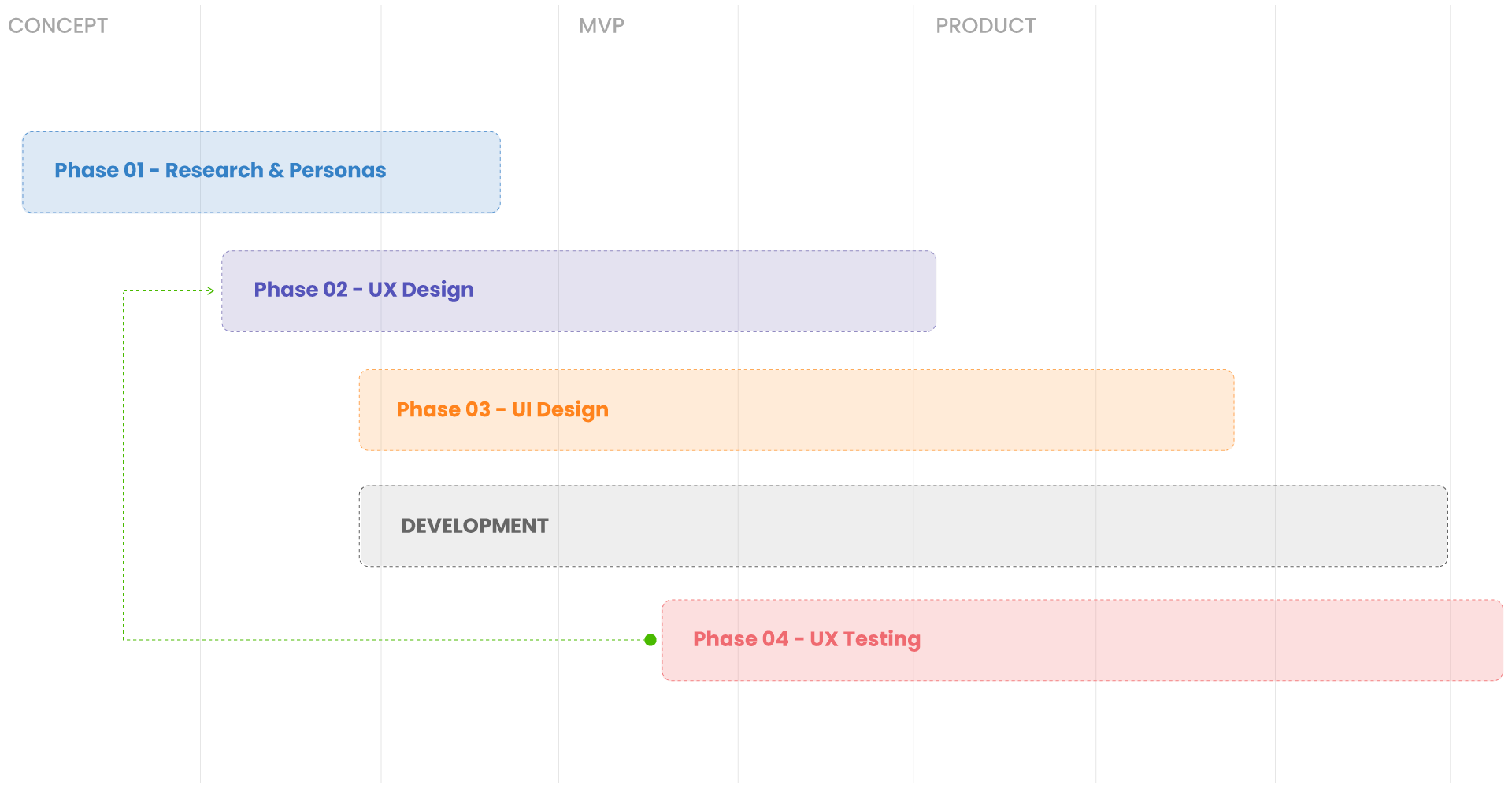 Building the platform was a big challenge for the company since it already had a large number of users and multiple datasets. To make sure that we set out in the right direction, the team joined a scoping session, where they discussed solutions to the existing problems and drafted the scope of the project.
The first phase was to understand the users of the product better and create different personas of prospective users. In the discovery phase, we spoke to some of the existing clients to understand their pain points with the existing product/process. Later we did a study of the other products competing in the same landscape to see what features they offer, this helped me and the team map out what features would be required in MVP and see which feature would give us a competitive advantage.
Personas
To build empathy with the targeted users, I decided to create an animated video and float it around with all the teams in the company. This helped all the teams in the company understand their target users and was key in facilitating product discussions.
User Flow
User Flow diagrams are handy for understanding the system in detail. They help the team, especially non-technical stakeholders, understand the limitations of the system, thus enables better product discussions and helps to decide a feature list, especially for MVP. Since the company already had some technology in place, it was important to study the existing system, and see how the system would be affected by the proposed features and interactions.
Wireframes
Wireframes help with testing every feature and validating a hypothesis quickly. I usually floated these prototypes first with the stakeholders in order to facilitate feature discussions. Then I did some testing with prospective users collected their feedback and kept iterating till I got a sign off from all the stakeholders involved.
Visual Design
Good UI is everything, its the first impression of the entire experience hence it needs to be correctly implemented. For PubGuru I used simple, clean & focused UI. The colours used were in sync with what the brand had been using earlier. Refreshed the hues of some of the colours to ensure they look fresh and also aesthetically pleasing.
Dashboard
Understand your daily revenue performance and how your demand partners are contributing to your overall revenue.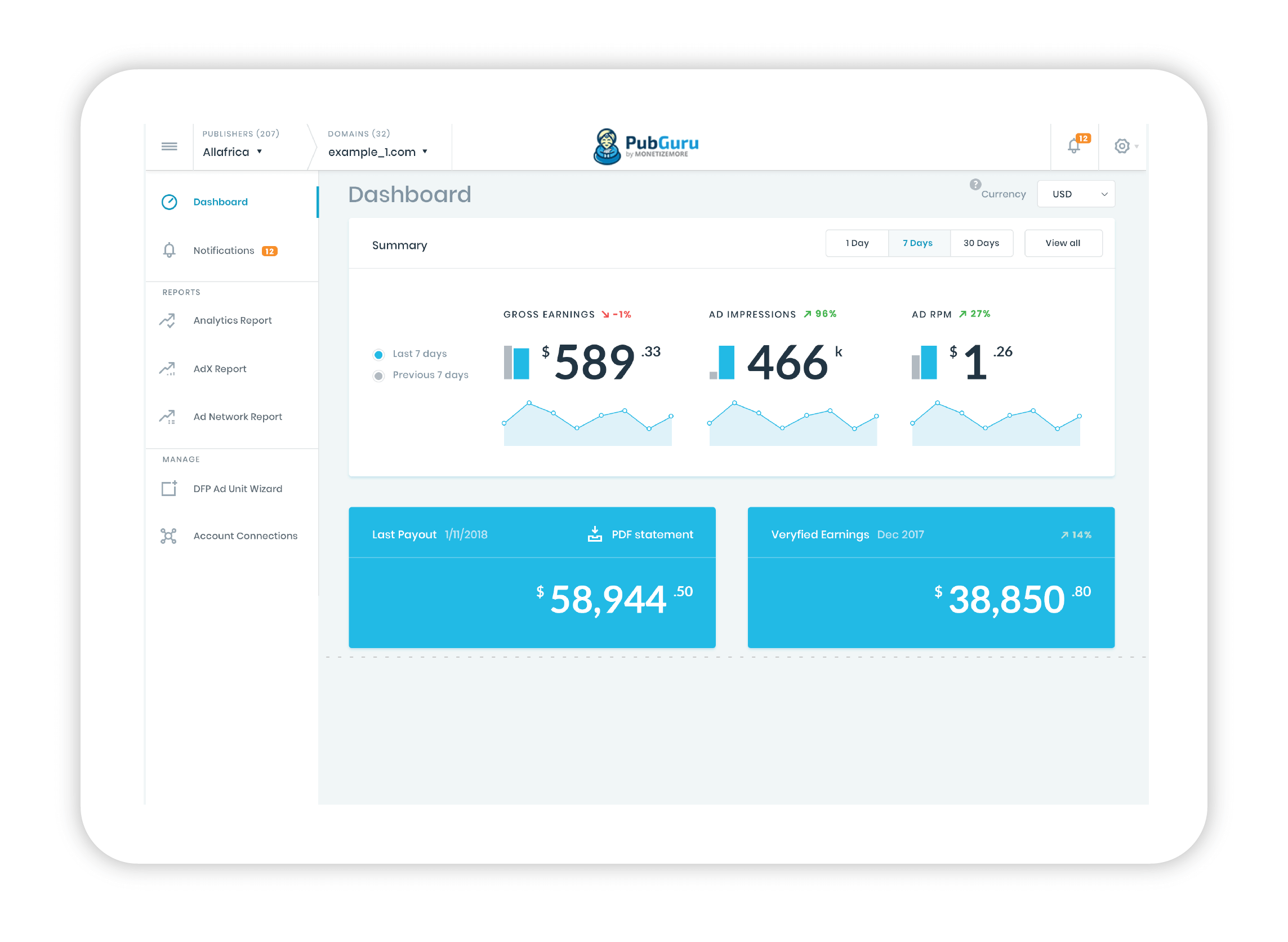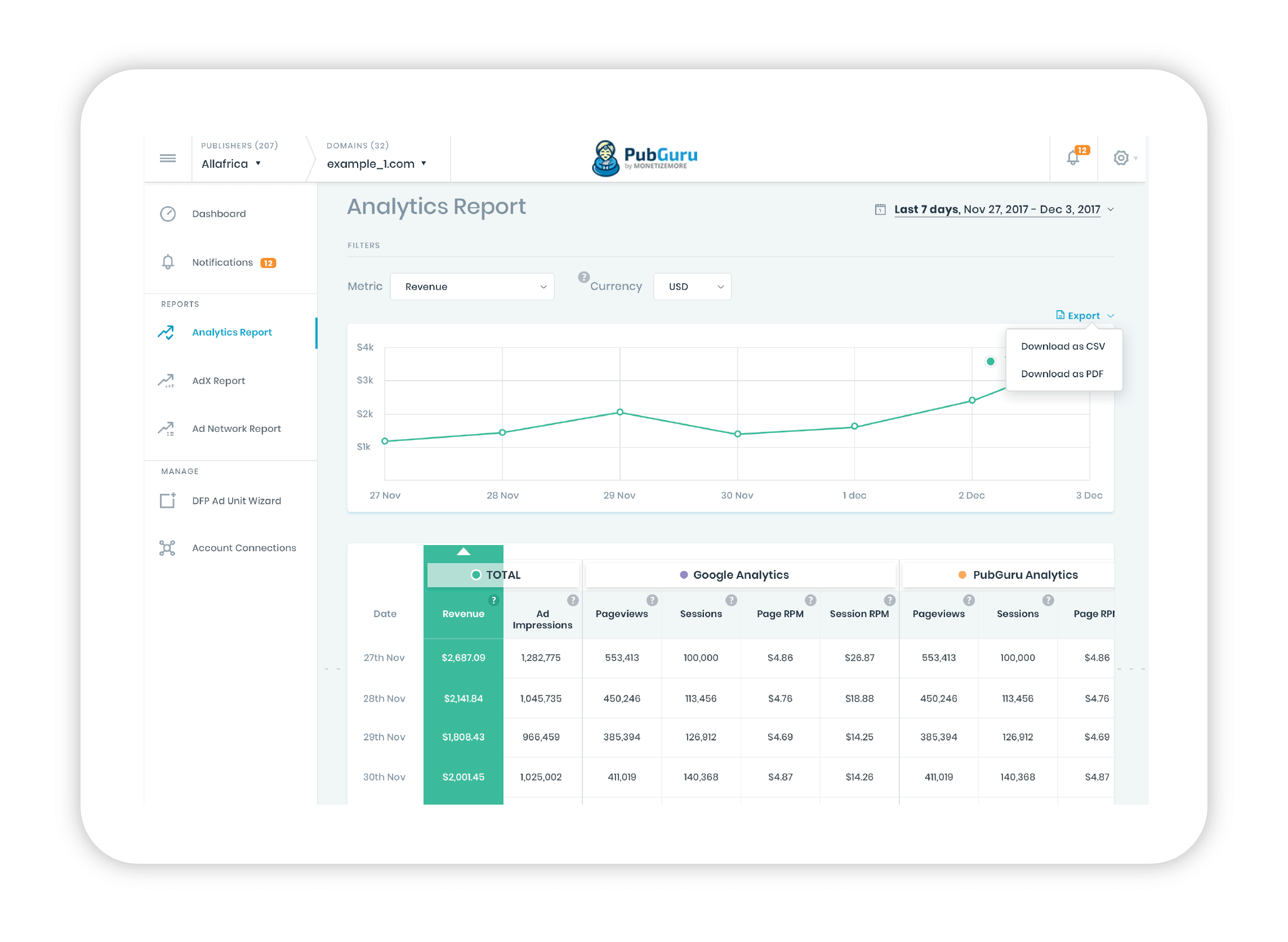 Analytics Report
Get insight into your website traffic, so you can take action to improve the experience.
Discrepancy Reports
Drill down and compare demand partner stats against your Google Ad Manager metrics to ensure everything is running smoothly.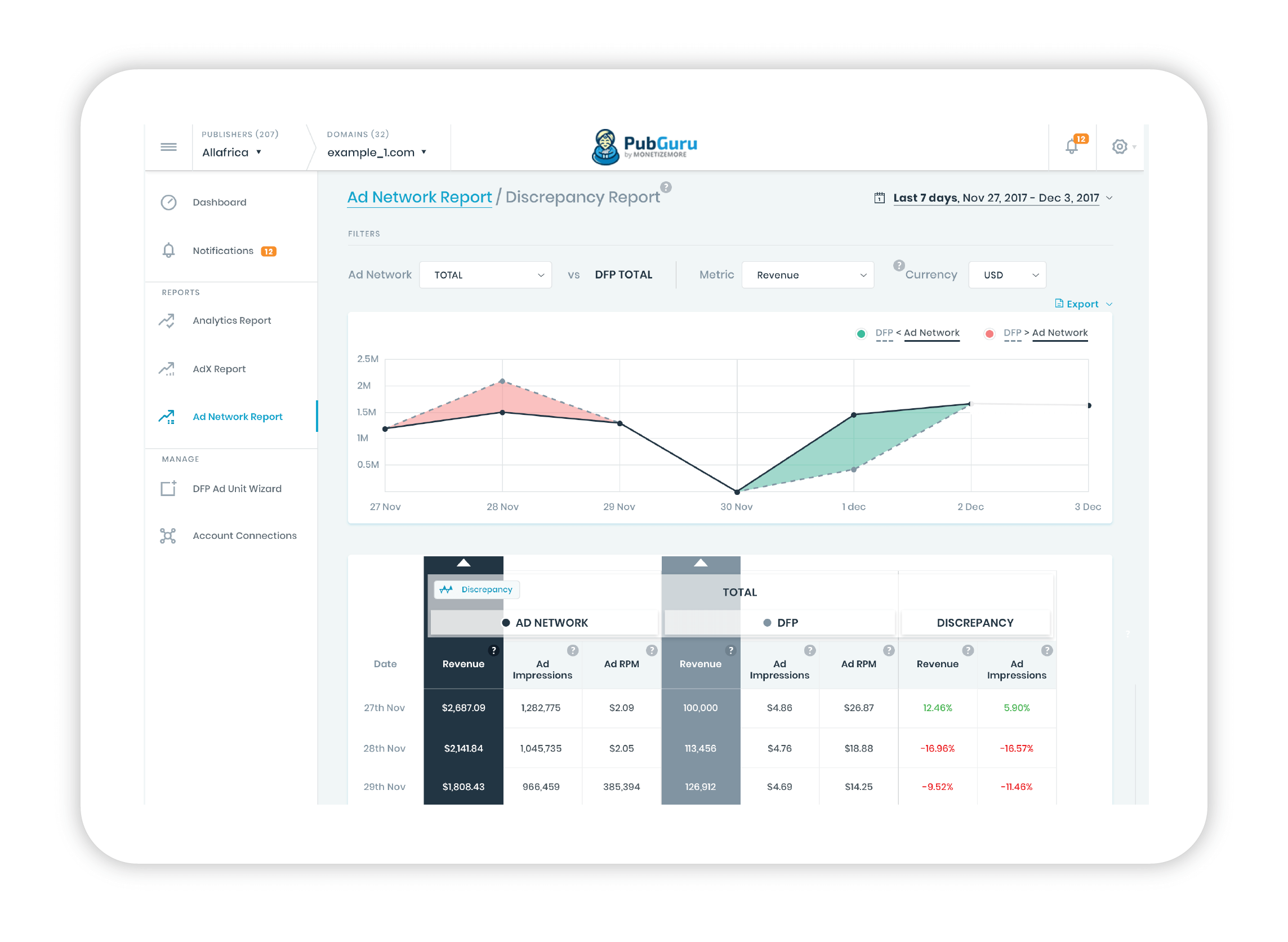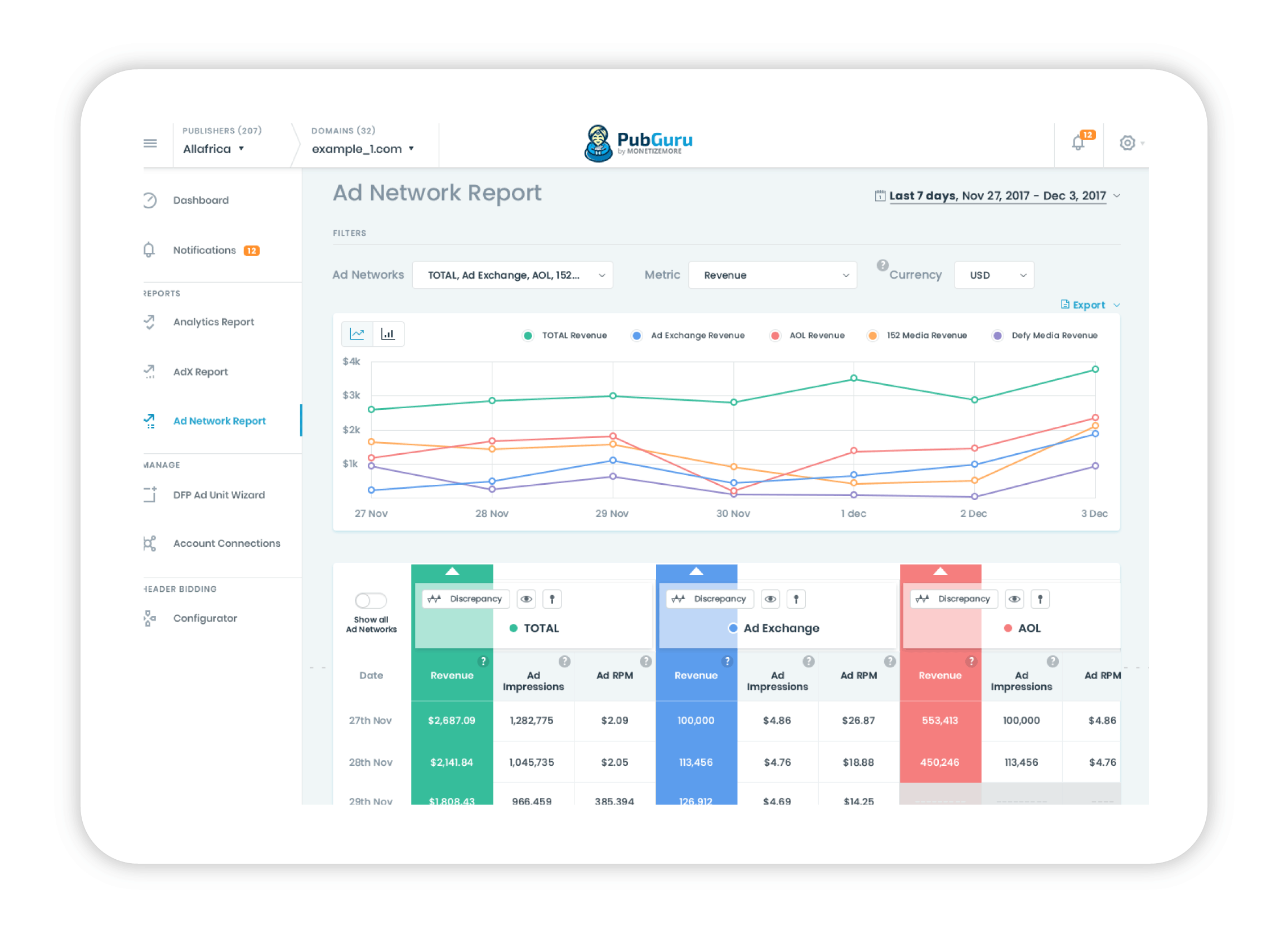 Ad Network Report
Monitor and diagnose ad revenue issues from your many different demand sources.